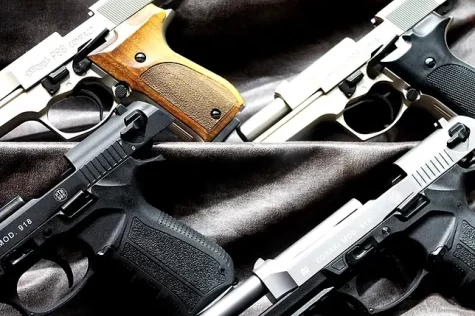 On January 21, 2023, an armed suspect opened fire in a dance venue in Monterey Park, CA, killing eleven. Two days later, seven people were shot and killed in Half Moon Bay, CA. These are just two of the 40 mass shootings the US has already seen in 2023 alone.
Both events happened while many Asian communities celebrated Lunar New Year, which was observed on the 22nd, and the victims themselves were all Asian.
"As someone who celebrates Lunar New Year, hearing about the shooting was very saddening," senior Makayleh Chen said. "Lunar New Year's Eve is supposed to be a day to celebrate the closing of a year and wishing for a prosperous, healthy, and happy year to come. Knowing that all the victims are Asian makes me think that it was a hate crime and finding out the suspect is also Asian was even more disappointing."
Attending a school with a large Asian population and living in a community where Asian American culture and history is so prominent leaves many of us fearful for our friends, peers, and families. Gun violence is a threat to all of us, and much of the issue comes from the lack of legal regulations on gun ownership.
"Overall, there should be more gun control," said Chen. "Guns are too readily accessible to minors and adults that have no prior knowledge and experience on how to use these weapons. I feel like as long as no major policy change is made regarding firearms, people will always have an underlying fear."
While many agree that restricting gun usage is the solution, there is the counterargument that the answer to mass shootings is to arm everybody, equating increased firepower to safety. However, according to Small Arms Survey, the US has about 120.5 guns to 100 people. In other words, the quantity of guns is larger than the amount of people. If having more guns made us safer, we would likely be safe by now.
"War weapons should be banned everywhere, but so many of them are already out there," said Amy Dellefield, who teaches AP Government at Encinal. "Stop selling them to stop the inflation of them. Ghost guns should be better managed. No internet selling of weapons [pieces]. People are getting around some of the restrictions and they shouldn't."
But what can we do about it? Most Encinal students don't have the ability to vote on gun control laws, which makes it seem like the issue is out of our hands. While it can be hard to see what we as students can do to create change at our age, that doesn't mean we're powerless.
"I think working with education and working with the youth, we definitely always talk about empowerment and saying we can make differences," said Encinal counselor Vi Doan. "I've seen protests and walkouts hosted by the students so I think we can all help facilitate that change."
Even those unable to attend protests can have an impact. All change starts with a conversation, and empathizing and checking in with each other can be greatly beneficial.
"What we can do individually is be kind to one another and work as a community," said fellow counselor Kari Finch. "Supporting each other, cutting out isolation, and recognizing people that need support. I think that's tremendous. If we could do that as a society, we would all be better off."
Lara Natouf contributed to this article.