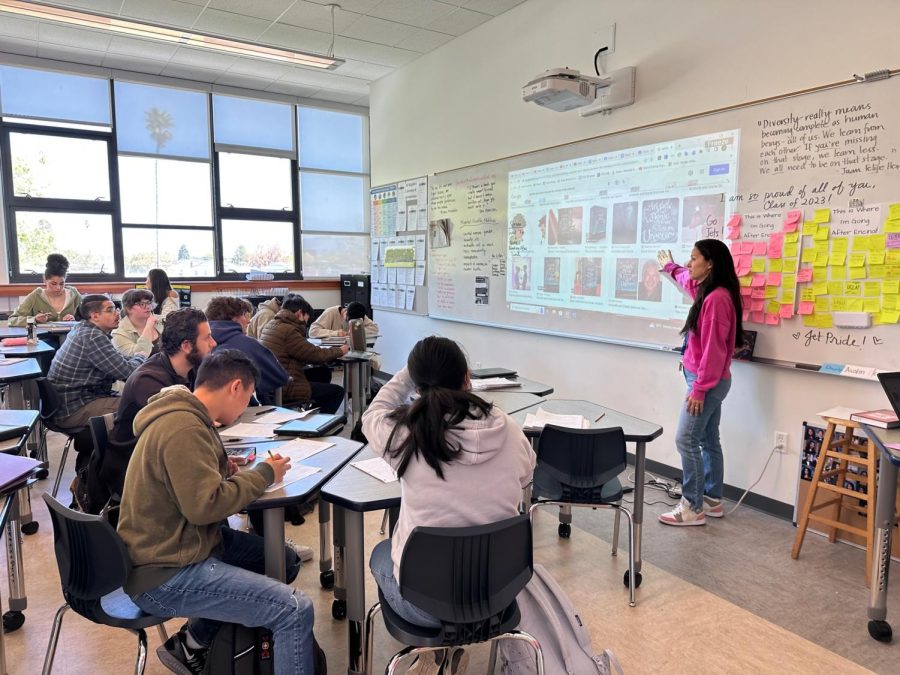 Jessica Kerber, Encinal's AP Literature and Mental Health Matters instructor, was named the 2023 AUSD Teacher of the Year. Ms. Kerber has taught since 2005 and spent her entire 18 year career at Encinal High School. This is her first AUSD Teacher of the Year award.
When asked what she liked about Encinal, Kerber talked about her love for the community and her own personal experience of becoming a Jet. 
"I love the community at Encinal and I know a lot of people talk about that, but honestly that's what's kept me teaching here for as long as I have," said Kerber.
After graduating from Alameda High School, Kerber attended UC Berkeley and earned her bachelor's degree in Literature. A true Alamedan, she found her way back to the island to start her teaching career.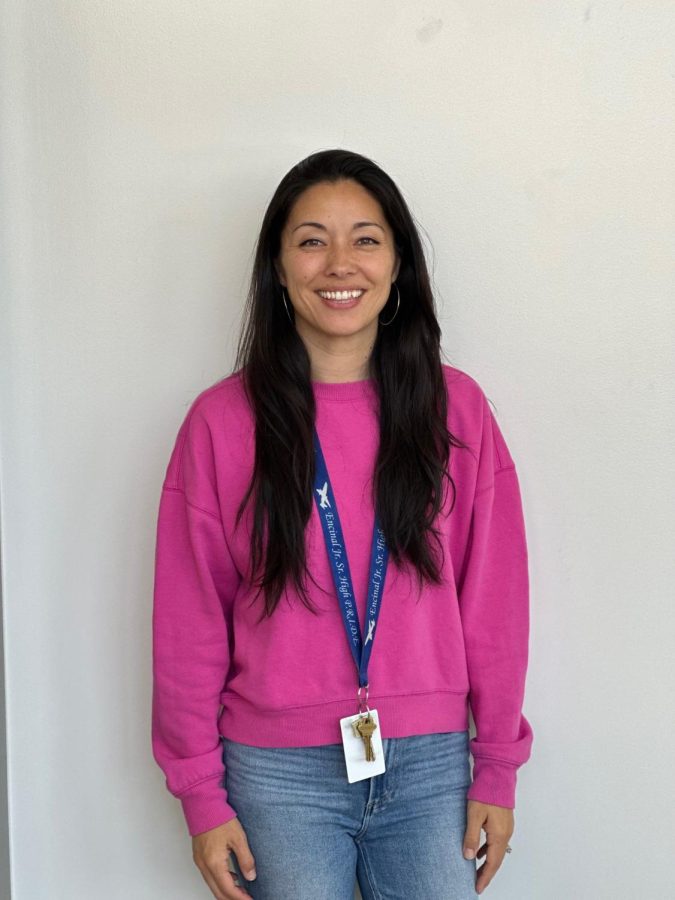 "When I first started teaching at Encinal I saw just how different it was from Alameda High. Students know their teachers, teachers know everyone, there's not a face on this campus that I don't really know or haven't seen. I have my close colleagues here who are really supportive and we help eachother grow as teachers. And the point of that is I like the community here, I like the small close knit feel of the campus, of the student body, and of the teaching staff," Kerber said.
As she explained her love for the Encinal community, she also shared her admiration for the underdog and how she hopes to send her children to the high school in the future.
"I also like that we're kinda the underdogs. I always root for the underdog, and you know, growing up in Alameda you always kind of know that Encinal is like the underdog," said Kerber. "It is seen as the school that is not as good as Alameda High, which is totally a false narrative. I'm excited for my own children to go here so I think that's a testament of how much I believe in Encinal High School, is that I can see my own kids going here."
In order to help students with their needs and academics and to be able to build relationships with them, Kerber emphasizes that teachers must get to know their students well.
"Don't strive for perfection and don't look at other teachers who seem to be doing it right and compare yourself to them," Kerber advises incoming teachers. "Find your own style and what works for you."
Colleagues who submitted recommendation letters noted Kerber's  professional standards and ability to connect with her students.
"Jessica's teaching style is both engaging and effective," one nominator wrote. "She has a natural ability to connect with her students and make content come alive for them. One of the things that I appreciate about Ms. Kerber is her ability to hold her students to high expectations while simultaneously differentiating instruction based on their individual needs. She is masterful at this."
This fall, the Alameda County Office of Education will honor all the Teachers of the Year in the county, and Kerber will have an opportunity to become Alameda County Teacher of the Year.