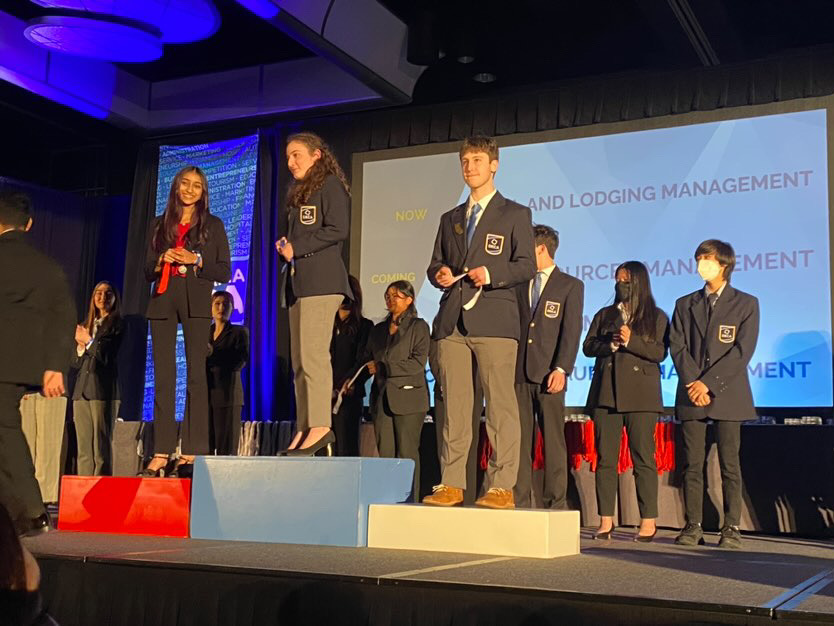 On April 5, students from the Encinal's DECA chapter got the opportunity to travel to Orlando, Florida to compete at the International Career Development Conference (ICDC). Senior Zachary Lachs and junior Octavian Yuen both participated in the highly competitive conference, where over 10,000 students gathered to try to place in a variety of categories.
Octavian Yuen, a first-year DECA member, qualified and participated in the Business Finance category at Internationals. 
"I did really well, but the competition is really high," Yuen said, who placed around 130th out of 180 students. When asked about his favorite part of the trip, he said, "Spending time at Disney, and seeing people from all around the world in one gigantic place." 
Yuen says that DECA has helped him with his interview skills, as well as the ability to think off the top of his head. His advice for new members is to "have fun, study hard, and you'll go places."
Lachs had similar advice.
"Study, study, study, but have a lot of fun and enjoy your time with friends on the trips," said Lachs. 
Lachs has participated in DECA for the past two years. In the state conference, he placed 4th in Hotel and Lodging Management, allowing him to qualify for Internationals. 
"I studied for a couple of weeks in advance for state for the test because I knew how important it was," said Lachs. "Also just having really good social skills and knowing the background about the area in which you compete is also really helpful."
In the fall, Lachs will continue his education at the University of Oregon, majoring in Business.
DECA, which stands for Distributive Education Clubs of America, has over 18,000 students all over the world who participate in many different business-related conferences throughout the school year. If students do well at these conferences, they can qualify for DECA Internationals, which rotates between Florida, Georgia, and California every year. 
Derrick Lyons, who teaches marketing and advises DECA at Encinal, managed the trip. He said that Lachs used to be "shy with speaking and problem solving." He now witnesses Lachs as having the ability to help out and lead his classmates. As for Yuen, Lyons said that he was "very reserved around other people that he didn't know. For people to be able to see that he's opening up and having success in that process of him learning how to be more open, he's actually helping others to get out of their reservedness."
Lyons explained that this DECA conference gave "the opportunity to get students that never experienced something of that magnitude a chance to be able to network themselves." He instructed those who went to give some insight to their peers about the experience at the event, possibly getting people motivated in attending Internationals 2024. 
The scale of Internationals definitely motivated sophomore Surina Castro, who was 1 of 3 students to attend the DECA Training in Orlando.
"I learned a lot of ways to improve the chapter fundraising wise," said Castro. "And, overall, getting people more motivated for the conference, as well as meeting new people and collaborating with other chapters." 
Juniors Ila Cantrell and Sesina Haile also attended the conference.
The training helped them get helpful tips on how to expand/improve Encinal's chapter.
"I'm excited to see how many people we can impact with our new implementations that we learned from training, and just seeing how far the chapter goes next year," said Castro.